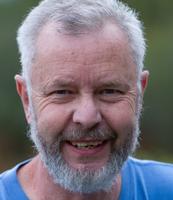 Ernest (Ernie) Godfrey Decker, Jr., 72, of Little Rock, AR passed away on Saturday, August 6, 2022. Ernie was born December 23, 1949 in Little Rock, AR, the son of Ernest G. Decker, Sr. and Martha Lamb Decker. Ernie married his wife, Celia (Gantz) Decker on April 6, 1973.
After graduating from Catholic High School in 1967, Ernie attended UALR for 3 ½ years. While attending college, he worked part-time at Kroger. In 1972, he embarked upon a career at TG&Y, ultimately becoming a store manager. While at TG&Y, he completed studies for a real estate license and left TG&Y. In addition to working as a realtor, Ernie partnered with his father, a local painting contractor. He eventually took over the business, light residential remodeling and painting, at which he worked until present day.
When Ernie took up a hobby or activity, he poured himself into it, and set about to learn all he could. An early passion was archery tournaments and bowhunting. During a painting job at a Little Rock ice rink, Ernie became interested in ice skating leading to competition as an ice dancer. His venture into photography started with a 35 mm camera and continued into the digital age. His photography encompassed scenes and subjects of the natural world as well as weddings and family gatherings. In recent years, Ernie's interest turned to competitive shooting. He was a lifetime member of the Arkansas Bowhunters Association, member of the Arkansas Outdoor Photography Club, and an active member of Central Arkansas Shooters Association, often helping to set up matches at the Perryville range.
Ernie leaves behind to cherish his memory his wife of 49 years, Celia; his sisters-in-law, Dorothy Gantz and Charlotte Woodworth; nephew, Stephen Gantz; niece, Lisa (Todd) Lindsey; Mary Lindsey; Mason Lindsey and nephew, Rick (Katherine) Woodworth; as well as countless friends and customers who will miss him dearly.
https://www.dignitymemorial.com/obituaries/north-little-rock-ar/ernest-decker-10876128