Condolences to Sanford Hooper on the passing of his mother, Ann Hooper.
on January 21. Services were at Holy Souls on January 27, Father Fred officiating.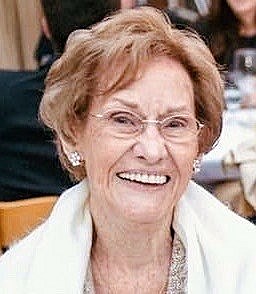 Gertrude Ann Hooper, 94, of Little Rock, died January 21, 2020. Born July 19, 1925 in Memphis, Tennessee, she was the daughter of Thomas Henry and Loretta Earley Stuart. A member of Our Lady of the Holy Souls Catholic Church, she was devoted to her family and church, and served as a Cub Scout leader at Our Lady of Good Counsel Church. Ann loved going to the races at Hot Springs and working crossword puzzles.
She was preceded in death by her parents; husband, Sanford "Patty" Hooper, Sr.; son, Dick Hooper; and three sisters, Patricia Garner, Jo Shannon, and Rose Marie Bartsch. Survivors include her children, Dianne Brady, Sanford Hooper, Jr.(Pam J.), Bob Hooper (Maria), Hank Hooper (Pam D.), Philip Hooper (Suzanne) and Mark Hooper (Ruth); daughter-in-law, Pam W. Hooper; siblings, Jean Gordon and Thomas Stuart; grandchildren, Justin Brady (Erin), Adam Brady (Tracy), Emily Brady, Michelle Mathieson (T.J.), Sarah Cushman (Josh), Stuart Hooper (Anna), Matt Hooper, Robert Hooper (Erin), Melissa Hooper, Patrick Hooper (Heather), Lindsey Hooper, Madeline Hooper and Hannah Hooper; and 22 great-grandchildren.
Memorials may be made to Catholic High School for Boys, 6300 Fr. Tribou Street, Little Rock, AR 72205 To sign the online guestbook, click "Add A Memory" at: https://www.dignitymemorial.com/obituaries/little-rock-ar/ann-hooper-9007594
You can also see Ann's Tribute Video online.
(Our apologies for missing the announcement last month.)
---
---