Condolences to Jo Cheek on the passing of her mother Mary Jo Cheek.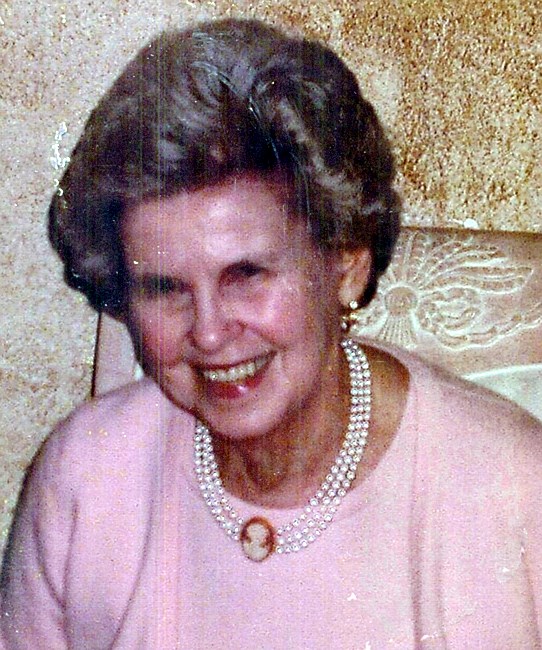 Mary Josephine Cheek of Little Rock entered into Eternal Life October 22, 2019. She was born February 22, 1921 in Clarksburg, West Virginia and was married to William Alston Cheek who predeceased her. She is survived by seven children.
Visitation was Friday, October 25, . at Griffin Leggett Healey & Roth, with rosary following.
Funeral Mass was Saturday, October 26, at 10 a.m. at the Cathedral of St. Andrew.
In lieu of flowers, memorial contributions may be submitted to MaryLake Monastery 5151 Marylake Drive Little Rock, AR 72206.
Mary Josephine Switzer Cheek of Little Rock, widow of William Alston Cheek, Sr. entered into Eternal Life on October 22, 2019. She was born February 22, 1921 in Clarksburg, WV, the daughter of Mary Cook and Lee Silas Switzer, the second of six children. Mrs. Cheek was educated in catholic schools in Weston, WV and during the Depression years, would spend many an afterschool hour trudging home through knee-high snow to help her mother ("Mamie") make popcorn to sell for needed income. Cardboard was the go-to reinforcement for frail shoes' soles, and luxuries included homemade soap, gravy sandwiches, and the Henderson Heater around which shivering siblings would hover.
After attending Dominican College for a year in Columbus, OH, she continued on to the Miss Washington School for Secretaries in Washington D.C., where she was voted "top overall" by the student body. Upon graduation, she was employed as a legal secretary by three attorneys in the law firm of "Covington, Burling, Rublee, Acheson, and Shorb" until 1945. Her free time was often spent caring for wounded WWII soldiers in makeshift infirmary - praying all the day that her three brothers on active duty wouldn't become her next patients. After the War, she married Lt. Cmdr. William Alston Cheek of Pelican, LA, on November 22, 1945 in the Walter Reed Chapel in Washington D.C.. A devout catholic, Mrs. Cheek and her husband were active members of Holy Souls Church from its inception until becoming parishoners at St. Andrew's Cathedral in downtown Little Rock.
Full and fulfilling were her child-raising years with Bill, nurturing eight children through twelve years of catholic education, piano lessons (for all eight) and recitals care of the Mercy nuns at Mount St. Mary's Academy. Too there was ballet, scouting, backyard croquet and summers vacationing at the "Beach Box". Days would be busy with cloth diapers, baby formula and sterile bottles, non-microwaved meals, and tv-less evenings, even with homework done. Bedtimes would be preceded often by kneeling for the family rosary in front of a picture of the Sacred Heart. All eight children completed college, with several obtaining their Doctorates in music performance, teaching, and medicine. While serving in her later years as president on the board of the family apartment estate business, she otherwise enjoyed her days pursuing that love of music and watercolors - talents she polished by attending the University of Arkansas at Little Rock in her 60's. Into her 90's she was a true believer in the value of crossword puzzles, the daily Democrat, and a 5 o'clock glass of chardonnay and Dorito's. She enjoyed gardening and was an active member of Little Rock Horticulture and Holy Souls Scripture study groups.
She and Bill often entertained Community Concert artists in their home and never forgot to include parish priests and the St. Mary's nuns on holidays with feasts of char-broiled rib roast, some "hot stuff", and some Heaven Hill. Mary Jo's life of 98 years was purposeful from start to finish, with devotion to the fundamentals of faith and family. Hers was a gentle yet firm hold directing that self-sacrificing spirit to ensure that all "T's" were crossed, "i's" were dotted, and cursive was at the right slant (you'll recall, she was a professional legal secretary). While always celebrating with gratitude her abundance of God's blessings, her focus remained til the end never to leave one of "her eight" unattended - regardless their question or quest. "What I longed for, I now see; What I hoped for, I now possess; In Heaven I am exposed to Him Whom on Earth I loved with all my heart." - Liturgy of the Hour
Mrs. Cheek is survived by seven of her eight children, Constance Cheek Hays (Mike — Kingwood, TX), Mary "Jo" Cheek who was her caregiver the past decade, Robert T. M.D. (Robin — Little Rock), Elizabeth Cheek Whaley (Skip — IN), John A. Cheek (NC), Richard A. Cheek (Lange — Little Rock), Julia Ellen Cheek (Little Rock), and is preceded in Life by her husband William A. Cheek Sr., her son William A. Cheek Jr. (CA) and infant grandson Christopher Henry Cheek, her 25 grandchildren who live all over the world and 18 greatgrandchildren.
(from https://www.dignitymemorial.com/obituaries/little-rock-ar/mary-jo-cheek-8899373)